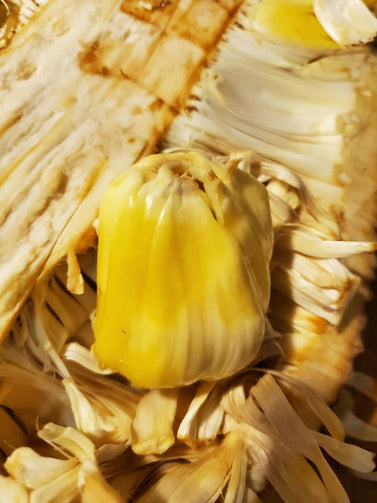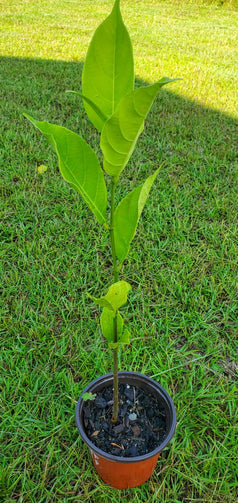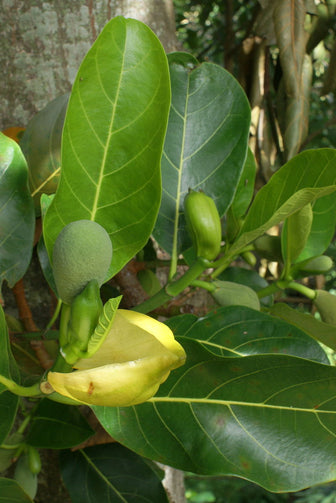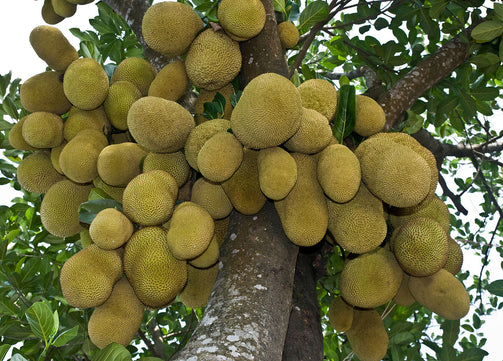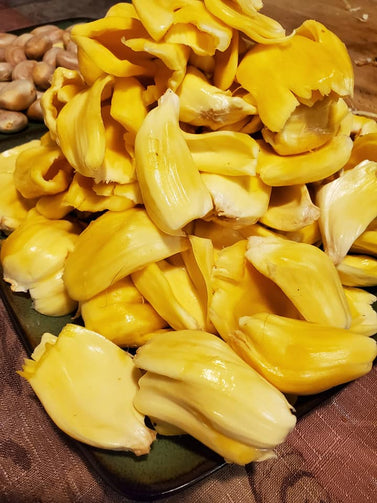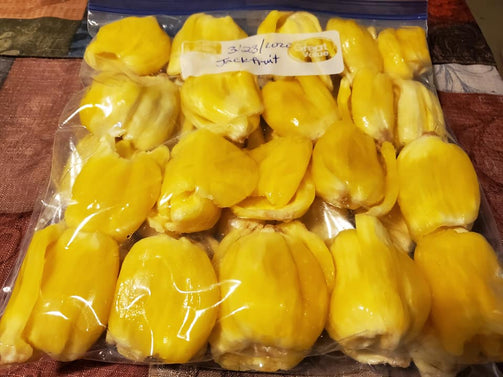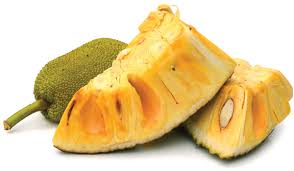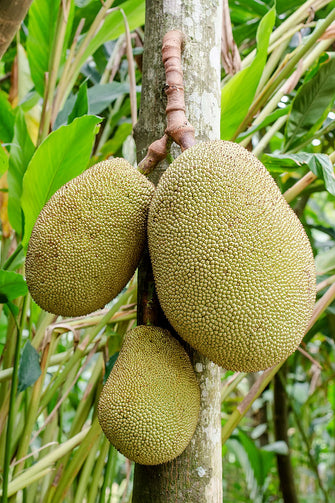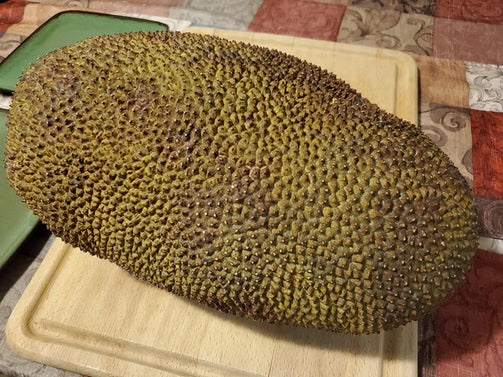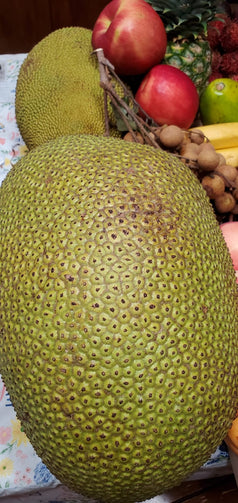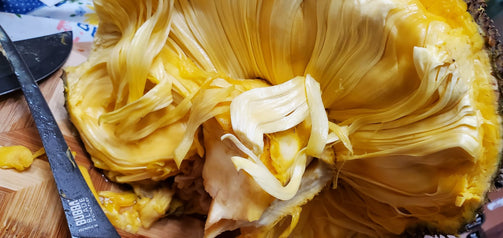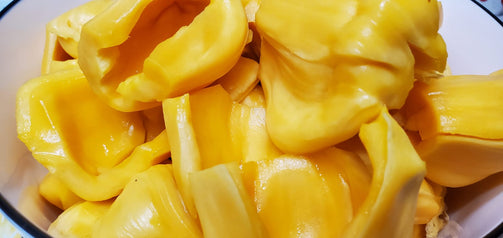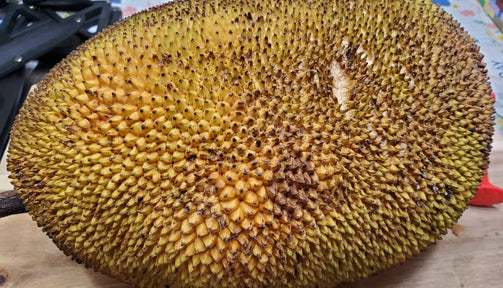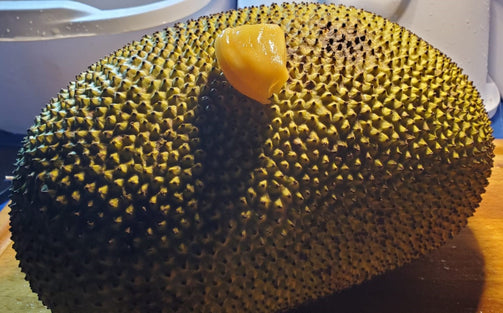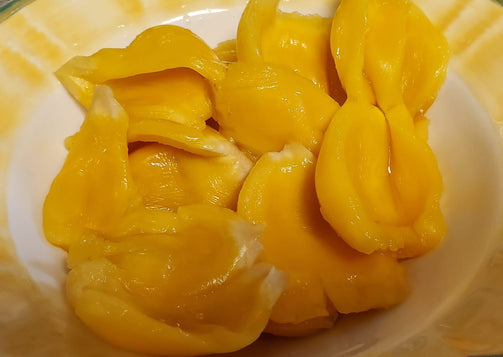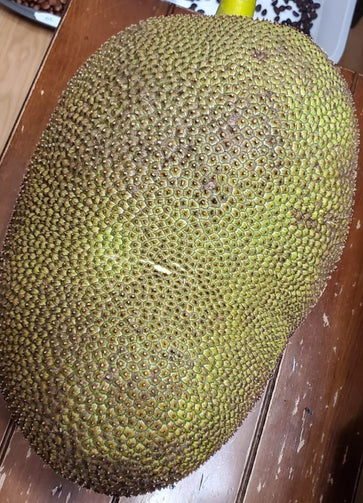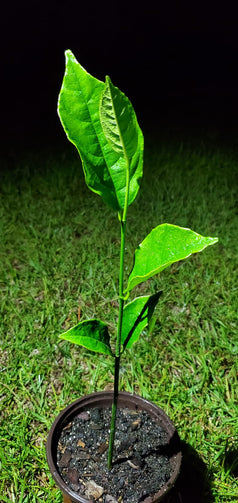 Jackfruit Tree (Artocarpus heterophyllus)
Jackfruit Tree (Artocarpus heterophyllus)
Regular price

Sale price

$49.95 USD
JACKFRUIT TREE
(Artocarpus heterophyllus)

Uses: Ornamental, Edible Fruit, Shade, Rootstock
Fruit: Largest fruit of any tree in the world (10 - 90 pounds per fruit), Round to Oblong, White/Yellow/Orange/Red Flesh Varieties, Various Flavors and Textures
Flowers: Fragrant male flowers; larger female flowers
Foliage: Velvety, Green, elliptical-obovate (15-20 cm long), Occasionally lobed.
Tree Sizes: Dwarfing, 15'-20'; Semi-Dwarfing, 25'-30'; Standard, 60'-90'
Growth Habits: Upright, High Branching, Evergreen
Tolerances: Resistant to Heat, Humidity, Wet, Wind, Pests & Diseases
Growing Zone: Tropical lowlands, survives to 10A-13B in ground; Can be grown in containers or greenhouses in all other zones.
Positioning: Full Sun, Part Sun

Description:
The Jackfruit Tree is a relative in the mulberry family and is the largest fruit grown from any tree in the world. While this lovely tropical evergreen grows very rapidly, it can be trained to be grown in containers or greenhouses in temperate and sub-tropical regions.

Fruit flavors are extremely complex, ranging from bubblegum to honeydew, and generally have soft to crisp textures. Some varieties may taste like a combination of 5 or more tropical fruit flavors in every bite. The fruit is gigantic and covered in rough bumps. Once ripe, the fruit will fill the home or yard with an incredible aroma, and when the fruit's skin is pressed, an impression will be left behind--indicating that it is ready to be eaten. The seeds are also great for roasting and taste much like an improved sweet Brazil nut. Most importantly, while jackfruit seedlings are not 100% true to the mother tree, they will remain very similar in size, shape and flavor with very little variation--making grafting useful mostly for obtaining fruit sooner, or saving space, as opposed to keeping quality of fruit. Seedlings can fruit within 3-5 years on average without grafting.

Jackfruits can generally survive short periods down to 35ºF without much damage, however, can often survive very short periods to 25ºF with significant dieback and will come back from the roots. They are best kept in conditions where temperatures never fall below 45ºF, and should be brought indoors if grown in colder regions when temps fall low. They typically flower during mid-summer to fall, but some varieties flower sporadically throughout the year and usually more than once.

They prefer sandy, loamy and rocky soils, but can often thrive in a wide variety of substrates such as clay provided there is very adequate drainage. Irrigation should be consistent to prevent stress. Fertilization should begin quarterly at 6 months of age and should include a balance of NPK at a ratio of 8:4:2 with 1 part Magnesium as well for the first two years, then drop back to slow release twice per year. Full sun is best and part sun is acceptable, but full sun contributes more to hardening off the trunk and building strength through further lignification and development. Jackfruit appreciate lots of water and well draining soils.

The Jackfruit is one of the most unique trees in the world and is a must have for the home garden. The fruit freezes well and makes an excellent frozen snack. There are also recipes on cooking the stringy fibers surrounding the interior within curries or making a vegan 'pulled pork' from them. Jackfruit is highly nutritious and is very beneficial to diabetics for controlling blood sugar.
We carry seedlings of the following 10 cultivars/varieties: (D-Dwarfing; SD-Semi-Dwarfing; V-Standard Vigorous)
Berry - Very Sweet, Crisp, Yellow-Orange, (Extremely Rare)
Chompa Gob - Refreshing Flavors, Firm, Orange, (Large and Prolific)
Dang Rasimi - Ultra Complex, Pliable, Deep Orange, (Our Favorite)
Eviarc Sweet - Sweetest Known, Very Crisp, Light Yellow, (Rarest Jackfruit)
Golden Pillow - Sugary and Complex, Firm, Yellow, (Small and Aromatic, New)
Honey Gold - Rich Flavors, Very Thick Walled, Dark Yellow (Excellent Aroma)
J-31 - Bubblegum, Firm, Deep Yellow, (Split Resistant Fruit, Wet/Dry Tolerant)
Lemon Gold -

 

Honeydew Melon, Crunchy, Lemon

 

Yellow, (Mild, Excellent)
Mai-1 - Vanilla-Banana, Very Crisp, Golden Yellow, (Large Seeds and Fruit)
Orange Crush -

 

Highly Complex, Extra Crunchy, Dark Orange, (Addictive)
Couldn't load pickup availability