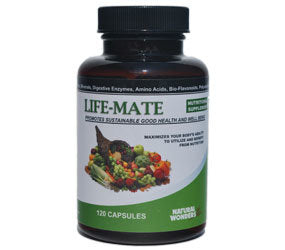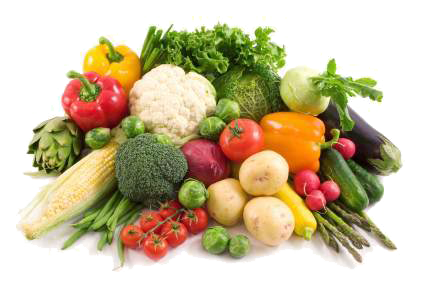 Life Mate 120 Capsules
Life Mate 120 Capsules
Regular price

$0.00 USD

Sale price

$29.95 USD
Brand: Natural Wonders
Product: Life-Mate, 120 Capsules
Details
Life-Mate is created to help support the Endocrine Gland System so that your body will create the proper hormones to distribute nutrients to the necessary parts of the body.
Nutrition
Promotes assimilation of food and proper use of nutrition. Helps maintain proper metabolism and a healthy digestive system. Promotes effective use of nutrients in cells to maintain healthy cells and tissues. Stimulates elimination of wastes, toxins and heavy metals.
Energy
Helps maintain a high level of energy, stamina and endurance. Promotes an overall feeling of enhanced physical, mental and emotional well-being. Enhanced delivery of oxygen to cells for better cell respiration.
Immunity
Supports a healthy immune system to resist common ailments (e.g. colds, flu, fatigue).
Supplement Facts
NATURAL WONDERS – a health supplement company – has been providing unique and exceptional health care products for over thirty years.
Many of our first customers are still using these products 25 to 30 years later – an outstanding record in today's typical come-and-go market.  The reason we have acquired such loyalty with our customers is that we offer truly excellent, health enhancing products and are dedicated to the single goal of improving health and well-being.  Our customer service and satisfaction are off the charts.
NATURAL WONDERS only objective is to help our customers acquire and maintain a higher level of health and well-being and therefore enjoy a better quality of life.  We invite you to try our life-changing nutritional supplement – called LIFE-MATE – and see for yourself why we have been in business for so long and why our customers are so loyal and committed to a life-long relationship with NATURAL WONDERS!
Nature's Ultimate Wonder
The world we live in is full of wonders – both natural and man-made.  The wonders that man has developed in the past few decades are truly incredible and have changed the world and the way we live forever.  However, the wonders of Nature still far exceed anything that man has created.
Although modern technology has surrounded us with unbelievable inventions, the wonder that tops them all is the human body – truly the greatest of all Nature's creations. In fact, because of the amazing complexity of the human body, it gives man the ability to stand at the pinnacle of all that exists on the planet.  However, maintaining our position at the top of creation is dependent on our ability to maintain the body in top condition – the condition we call good health!  Since our body is a creation of Nature, we have been provided with the elements from Nature – in the form of nutrition – that are required to keep the body in a healthy state so it can function as it is intended to keep us at the top.
Since good health is the key to our position in creation, it would stand to reason that maintaining our health would be our very top priority.  In reality, however, we all know that taking care of our health is, for most people, very low on the priority list.  In fact, we tend to ignore it, or even worse, we abuse it!  As unbelievable as it is, we have actually created things that are destructive to our health.  Consider what we have done:
Polluted the air we breathe and the water we drink – the two most critical elements we require to even exist; Altered or destroyed the nutritive value of the food we eat – the only source of  the nutrients that are vitally essential to keep the body in a healthy state; Created addictive substances – like cigarettes and alcohol – that break down the healthy condition of the body and severely hinder its ability to function; Adopted life styles that are dominated by stress, excessive weight gain, lack of exercise, etc., all of which tend to ruin our health and reduce our quality of life.
In a world like this, we cannot afford to sit back, ignore our health, and depend on luck to keep us healthy.  We have to make a conscious and consistent effort to make sure we get the essential nutrients required to maintain the level of health that will allow the body to function as the natural wonder it is intended to be.
The only source Nature has provided to keep the body in top condition is from the nutrients contained in the food we eat.  Obviously, to stay healthy, we need to get the best nutrition available.  Unfortunately, since much of the food in today's pre-packaged, fast-food diet is seriously lacking in those vital nutrients, we must supplement our diet in order to get what the body needs.  Fortunately, there is such a nutritional supplement available today – called LIFE-MATE – which is designed to supply all the essential elements of a good diet.
This product has been on the market for over thirty years and has helped countless customers enjoy an enhanced level of good health and well-being.  It is offered to the public through a company called NATURAL WONDERS.  We invite you to try LIFE-MATE and experience the difference it can make in your life.  It can truly enhance your level of health and well-being – and improve your quality of life.
 

The Life Mate Story
The original LIFE-MATE formula was developed as part of an extensive research project which was conducted over 50 years ago by two medical scientists (an endocrinologist and a pathologist). These doctors were prompted to undertake this project because of the alarming number of patients coming into the hospitals and doctors' offices with a condition for which the doctors had no cure – primarily because they could diagnose no illness. The patients' complaint: no energy and constantly coming down with minor ailments, like the flu or the common cold. Pathologically, the doctors could find nothing wrong with them. What was found in the research was that good health, including abundant energy and a strong immune system, depends, to a great extent, on the nutrition the body gets from the food we eat and the ability of the body to use that nutrition properly to maintain a high level of health. This fact was not accepted by the medical profession at that time, and the work these doctors did was generally scorned by their colleagues. Today, however, this concept has found greater acceptance and is more generally recognized as a basic tenet of health maintenance.
To help you understand the background behind LIFE-MATE, this article will give a brief explanation of what was found through this research project.
To begin with, it is necessary to understand the basics of nutrition. Mother Nature has provided us with all the elements of nutrition that we need to stay strong and healthy. The basic elements are: 1) carbohydrates (which provide the fuel needed to generate the energy the body requires to stay alive), 2) protein (which forms the building blocks that make up all the cells of the body), and 3) vitamins and minerals (that promote the many functions that keep the body running). Through the research it was found that the actual use of this nutrition is controlled by certain hormones that are produced by the Endocrine glands. These hormones determine that each element of nutrition is, in fact, used for the purpose for which it is intended. The research showed that when these hormones are not present to perform this function, it may set off a chain reaction that can lead to serious problems.
The carbohydrates, instead of being burned to provide energy, are either passed off as waste or are stored as excess fat on the body. When the carbohydrates do not supply the critical demands for energy, the body must turn to the only other available source of energy – protein. When protein must be burned for energy, it is not available in sufficient quantities to build, nourish and strengthen the cells and tissues of the body. When this condition develops, the cells and tissues gradually deteriorate, leaving the body in a weakened condition that becomes easy prey to viruses and disease. And when this cell destruction becomes extensive enough, it can eventually lead to the breakdown of vital parts of the body and then to major health problems.
Since the Endocrine glands are responsible for enabling the body to make proper use of nutrition, the doctors recognized that keeping the glands, themselves, properly nourished and in a healthy condition was vital to the overall health of the body. They discovered that in almost every case they studied the Endocrine glands were undernourished and incapable of producing their vital hormones, that nutrition was therefore not being used as needed, and that the patient's condition was the result of cell destruction. In order to help overcome this problem, they spent many years searching for the nutritional elements the glands need to stay healthy and function as they should. Finally, they found what the glands need in the oils of wheat, rice and soybeans.
Through extensive experimentation, they combined these elements with a balanced combination of vitamins, minerals and other nutritional co-factors and produced the formula that today is the bases of the nutritional supplement, LIFE-MATE!
NOTE: It should be mentioned that the hormones produced by the Endocrine glands control to a great extent the entire well-being of our entire life – physically, mentally and emotionally.  They must be produced in tightly balanced quantities, and if that balance is disrupted, serious results are likely to occur to our physical, mental or emotional state of health. Since the nutrients in today's diet may not contain those elements needed to keep the glands healthy, it is important to supplement those elements to make sure the glands function as they should.  LIFE-MATE combines these elements with a carefully balanced combination of other nutrients to provide a unique supplement that can make a significant difference in your life.
Couldn't load pickup availability