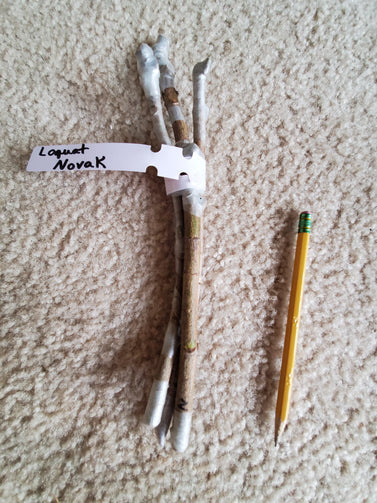 'Novak' Loquat Scion Wood
'Novak' Loquat Scion Wood
Regular price

Sale price

$18.00 USD
NOVAK LOQUAT  
Flavor:  Sweetart Candy, Apricotty
Fruit Size:  Medium-Large
Fruit Type:  Orange (Great Shelf Life), Dense & Juicy Texture
Growth Habits:  Semi-Dwarfing, Extending Canopy, Broadened Ornamental Leaves
Season:  Mid to Late
Tolerances:  Resistant to Drought, Shade, Heat, Humidity, Pests & Diseases, Cold
Growing Zone:  8A or higher (9 is Perfect)
Positioning:  Full Sun, Part Sun
The Novak is a rare variety chosen by Charles Novak of Plant City, Florida, which carries a unique and complex candy flavor of sweet, tart, and sour tones in each fruit. The fruit tends to have random size variances with occasional moderately large ones—sporting a clean, yellow peel. Despite being quite tolerant of intense heat and humidity, the tree is more susceptible to high winds and overwatering. The leaves have a broad shape and are very ornamental. Flowers are very attractive and aromatic. Keeps an outstanding shelf life due to its tart and sour properties, and makes a decent pie, preserve or chilled snack. Novak is an excellent choice for container growing in patio orchards and has been known to occasionally fruit more than once in a season.
Couldn't load pickup availability
Customer Reviews
8b
I will not ever do business with Akme again after ordering 2 scions around July 17th and receiving them about 30-35 days later. It took multiple phone calls and emails over the 30+ day wait to get a response on why it takes that long to harvest scions and ship them. In the same time frame I ordered 4 1g plants from OGW and they were on my porch 3 days after the initial order. Akme made the excuse that they had poor weather and that is what took 30+ days. After talking to a few nursery owners in the area the consensus is that the service provided is unacceptable. By the time I got the cuttings it was so hot out that I didn't feel comfortable grafting as it was much cooler in July when I intended to get the job done. Terrible experience. Not worth my time or money. Sending me 2 extra scions does not make up for the worthless business etiquette. I hope they treat customers with more respect in the future.
06/19/2022
James A.

United States
9a Tampa
I was able to find hard to find Loquats. The Novak in particular, I met Mr. Novak years ago and he gave me an Oliver Loquat, because my last name is Oliver, but I later found he had one named after him, and I have been trying to locate this for some time now. This is the place for Loquats