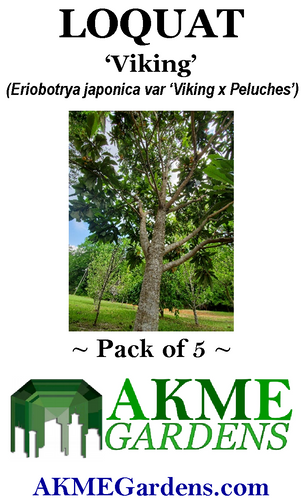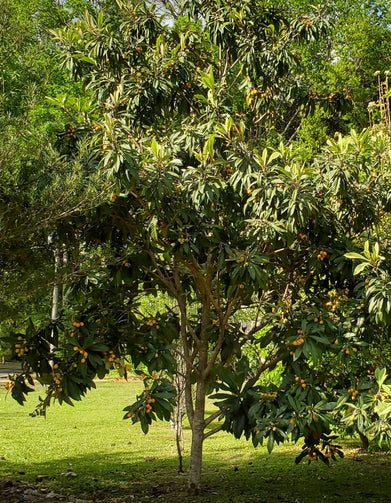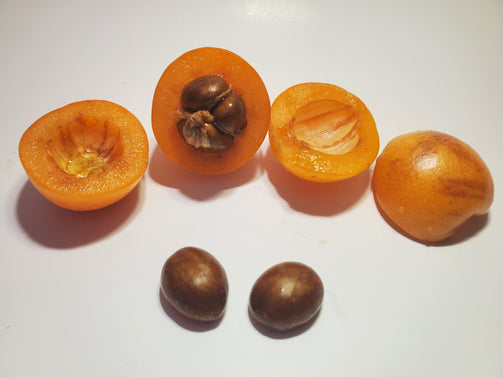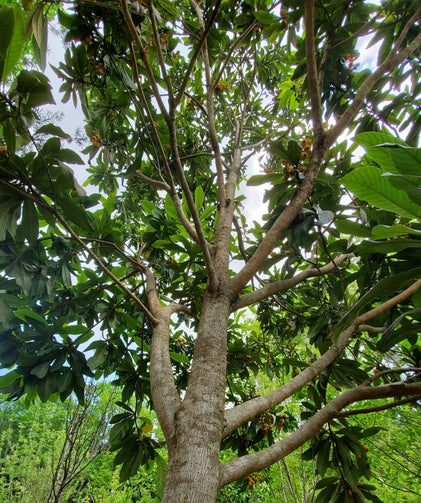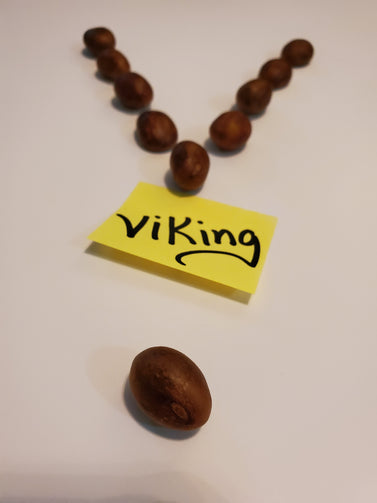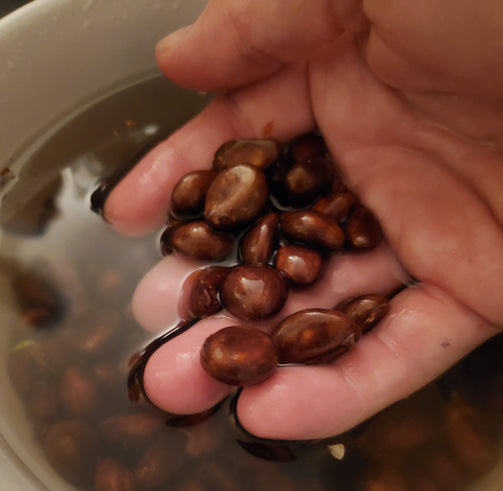 'Viking' Loquat (Eriobotrya japonica) Seeds
'Viking' Loquat (Eriobotrya japonica) Seeds
Regular price

Sale price

$12.95 USD
VIKING LOQUAT  
Flavor:  Very Sweet Honey Taste with Papaya Undertones
Fruit Size:  Medium-Large
Fruit Type:  Orange, Crisp Flesh
Growth Habits:  Ultra-Vigorous Upright Canopy, Highly Prolific
Season:  Mid to Late (Staggered)
Tolerances:  Resistant to Drought, Shade, Heat, Humidity, Wet, Wind, Pests & Diseases, Coldest Known
Growing Zone:  7A or higher (9 is Perfect)
Positioning:  Full Sun, Part Sun  
The Viking is a rare variety we discovered at AKME Gardens from a large group of carefully selected parentage and pollinated seedlings years ago. It was by far the most vigorous loquat tree we have encountered—having a stern upright growth pattern reaching 15-20 feet in under 5 years if left unpruned. The mother tree exceeded 7 feet in height in the first 10 months from seed, and flowered and fruited on 3 branches in the first season (only loquat we have ever germinated which fruited within a year from seed). Not only did its fruit turn out to be one of our favorites with a non-mushy honey-like flavor, but its seedlings have also consistently proven to be extremely vigorous and make astounding rootstocks. Vigorous, tolerant, tasty, resistant and withstands drought, high heat, low temperatures, flooding, and humidity—thus we named this loquat warrior the Viking. This is the coldest tolerant variety we know of and has the most vigorous growth we have ever seen on a loquat.
Be advised that the actual fruit of a seedling will not be the same as its parentage, but many physical properties of the tree's genetic markers may carry over, such as size, growing patterns, prolificity, resistances and tolerances. Also, actual fruit does tend to be similar in many regards and may even have an improved flavor if you are fortunate.  Our loquat trees are pollinated with only other improved cultivars and the seeds will carry over much of the desirable characteristics and qualities.
Our loquat seeds have been freshly harvested for the season and have a shelf life of approximately 6 months and should be planted as soon as possible once received.  Loquat seeds must be germinated in moist-dry conditions (not wet), and prefer coarse sandy, loamy soils with a good mix of fine pine bark particulates and humus--extremely well-draining.  Loquats are not heavy feeders, and the use of fast-release fertilizers should be avoided.  Only fertilize with slow-release, light feeds with micros such as polymer-coated controlled-release for supplying mineral nutrients.
Couldn't load pickup availability