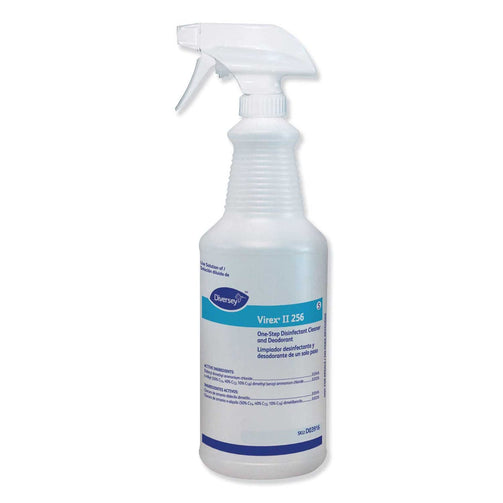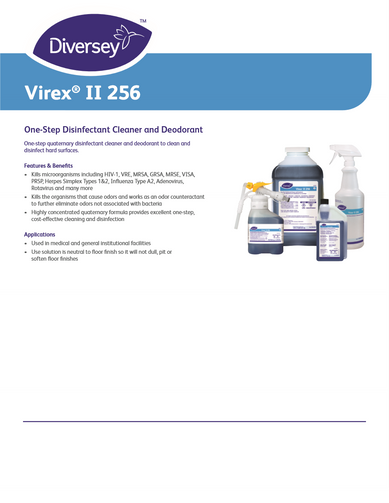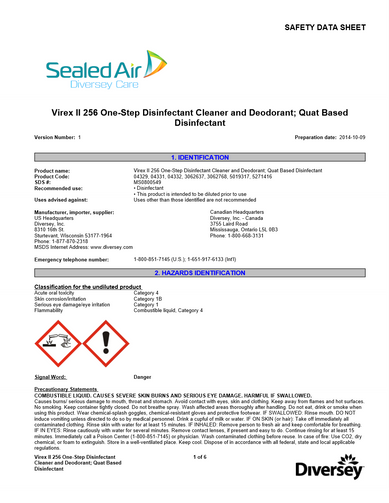 Virex II 256 Disinfectant/Cleaner/Deodorizer, 32 Ounce ( 946mL, 1 Quart) Bottle w/Trigger, Liquid, Ready To Use, by Diversey
Virex II 256 Disinfectant/Cleaner/Deodorizer, 32 Ounce ( 946mL, 1 Quart) Bottle w/Trigger, Liquid, Ready To Use, by Diversey
Regular price

Sale price

$9.95 USD
In response to the global pandemic of SARS-COV-2 causing COVID-19, I've implemented additional steps to ensure our safety and yours while conducting business. I disinfect all tools, materials and items with an EPA industrially and medically approved virucide called Virex II 256 which can kill any traces of coronavirus in under a few minutes to keep all parties safe during transactions.  Our chemicals always ship with SDS (Safety Data Sheets) to place within your home or business.
Environmentally friendly and usable as a multi-surface and multipurpose application.
Ready-to-use, quaternary-based hospital-grade disinfectant provides excellent cleaning and deodorizing action in one easy step. Powerful bactericide, tuberculocide, virucide and fungicide disinfects surfaces within three minutes of contact.
Kills:  Hepatitis B Virus, (HBV) HIV-1 Human Immunodeficiency Virus Type 1, Methicillin-resistant Staphylococcus Aureus (MRSA), Norovirus, Tuberculosis (TB), Vancomycin-resistant Enterococci (VRE), Coronaviruses (Including SARS-COV-2) and much more.
Couldn't load pickup availability