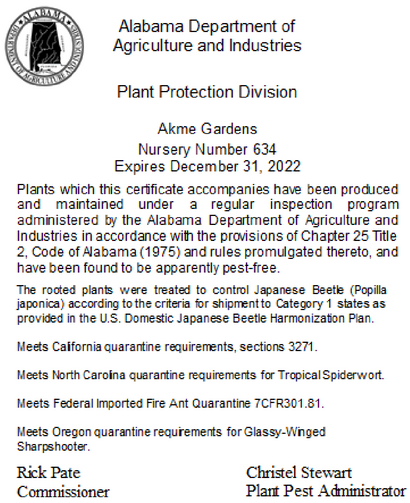 Certified Transshipping Service
Certified Transshipping Service
Regular price

Sale price

$15.00 USD
Certified Transshipping Service (Also Trans-shipping or Transhipping)
Oftentimes you run into as issue where plant nurseries are unable to ship to certain states, such as California, Hawaii, Oregon, Florida, North Carolina, etc.
However, we are here to help. Our nursery is one of the few who have been certified and rigorously inspected to ship all plant materials nationwide to all states and territories (except certain restrictions with Citrus only).
We will make sure your plant materials are in compliance with state laws and regulations.
We will not open your package unless a specific treatment is required for a plant to ship to a certain state, and will reach out to you directly for written permission before doing so if it is required, and send you immediate photos of the contents so you may see the condition of the contents upon arrival to our facility. We will not open any packages containing seeds, cuttings or fruit, as they require no treatment.
We will affix our certified nursery label onto your packages and ship them immediately to your home or business.
Once you purchase this service, you must have the order shipped directly from the supplier to our address at 21555 Sedlack Road, Silverhill, AL, 36576, but make sure you keep the package in your name so we can associate the package with your account.
The service is per package or box, as each one will require a separate certification label affixed to the outside. So, if you have multiple boxes, make sure to add additional services to the cart for each one.
We will update the order to charge separately for the shipping after the package arrives, and we are able to measure and weigh the box dimensions and provide a shipping price to send to your home or business. We do offer expedited shipping as well and will give you quotes for each depending on your preference.
Our only restriction is for Citrus. We cannot ship Citrus trees or cuttings to citrus producing states: CA, HI, LA, TX, AZ and FL.
Couldn't load pickup availability